Heating in new buildings
Pros and cons of different systems
Gone are the days when building owners installed gas or oil heating as standard in new buildings. Numerous aspects make the choice of heating in new buildings increasingly difficult, but there are upsides as well. Home builders must make their decision based on practical aspects (such as space requirements), legal requirements, possible subsidies, further savings possibilities, the ecological footprint and a wide range of technological innovations.
Heating new buildings in the era of climate change
With no less than 40%, the building sector makes a huge contribution to energy consumption in Germany. In private households, 82% of the energy is used for heating and hot water generation.
At the same time, the German government has set itself the goal of making the building stock in Germany climate-neutral by 2050. A very ambitious goal to which modern heating systems can make a significant contribution.
Technologies for heating in new buildings
When it comes to heating systems, you have a wide choice today – gas condensing boilers and various types of heat pumps come into question. However, if you look at the heating structure in new buildings in Germany, there is a very clear trend towards heat pumps.
Heat pumps for new buildings
This type of heating is becoming increasingly popular. Heat pumps already accounted for around 42% of heating systems installed in new buildings in 2018. The reason is that the heat pump is considered to be a very environmentally friendly heating system and is also inexpensive in the long term, as the device draws heat from the environment and consequently no fuel has to be bought.
It only needs electrical power to operate. You can generate this electricity yourself using your own solar system. The only ongoing costs are maintenance and possible repairs.
The heat pump is particularly suitable for new buildings, as it works with low flow temperatures. This works best with surface heating and very good building insulation that keeps the heat in the house. Both can be easily achieved in a new building.
If you also opt for a geothermal heat pump, larger ground work may be required for installation – which is easier to implement during original construction work.
The WOLF CHA Monoblock heat pump is sure to fit in with the overall design of your home, and is perfect in the garden, out on the patio or mounted on the wall – all with an impressive COP of 4.65.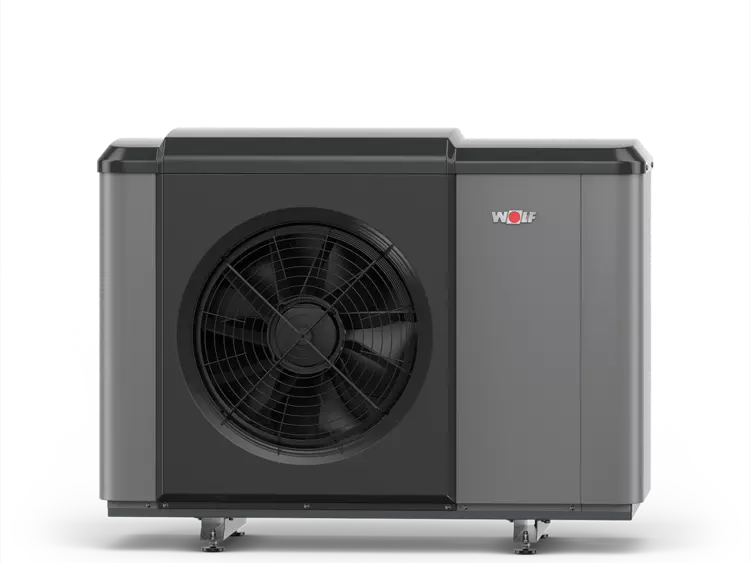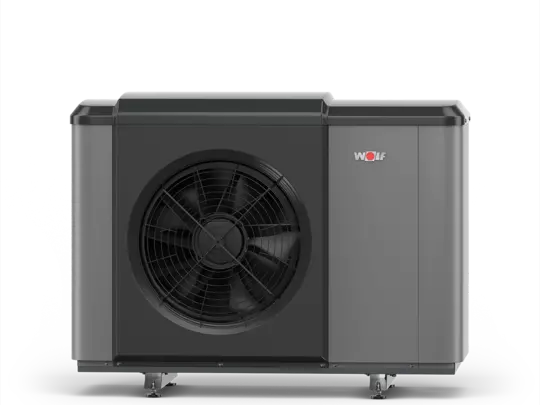 Gas heating for new buildings
Modern gas heating systems come with condensing technology, which makes them much more cost effective than older models. They achieve high energy conversion rates and, in combination with a speed-controlled pump, are extremely efficient and quite inexpensive.
In contrast to the heat pump, in this case you heat with a fossil fuel (gas), but the attractive thing about gas heating is the purchase price. The popularity of gas for new buildings has been steadily declining in recent years, but condensing technology is still one of the most frequently used heating systems in new builds.
Heat recovery from mechanical ventilation
New buildings are now insulated to an increasing extent – not least due to legal requirements for compliance with climate targets. The result is that there is practically no air exchange from outside to inside. However, this exchange is important to control the humidity in the room and to prevent the formation of mould.
It also feels more comfortable. The remedy is controlled interior ventilation with heat recovery. This ensures a constant exchange of air. The filters can also remove dust and pollen directly from the outside air, which is a big plus for allergy sufferers.
In winter, the extract air is used to heat the fresh air. This in turn saves heating costs.
Individual advice for heating in new buildings
When planning the heating in a new building, there are a few things to consider. But don't worry: our experts will be happy to advise you and provide you with free information on suitable heating systems for your new building as well as on funding opportunities and legal requirements, all without incurring any obligation on your part. Please contact us!