Five tips for heating your home sustainably
If you heat sustainably, you save both energy and money. It also lowers the amount of climate-damaging CO2 emissions and makes a valuable contribution to improving environmental protection.
Potential energy losses from your home
Before any weak points in the existing building structure can be remedied, they must first be found. Older building structures often have uninsulated material surfaces and therefore lose a great deal of heat.
As this heat is given off into the surroundings without being used, the heating system has to work harder and use more energy. The graphic shows potential weak spots through which a building can lose energy.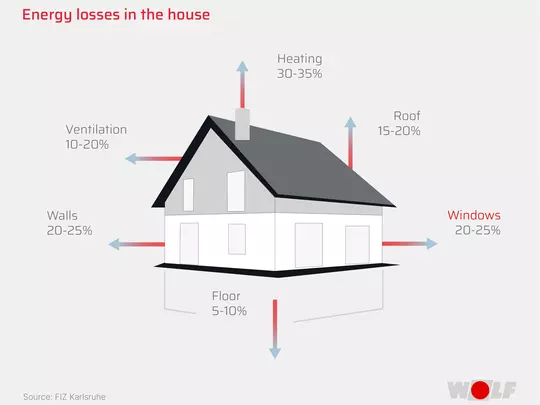 You can reduce energy losses and lower the heating energy requirements of your building by fitting good thermal insulation.
Insulation may be expensive compared to other measures, but it can reduce your energy consumption by around two thirds. Select insulating materials with low heat transfer coefficients for the:
Façade
Windows
Roof
Cellar
Heating pipes
Boiler
Regular ventilation is important for an ideal indoor climate, for the building fabric and, most importantly, for your health. However, it can cause you to lose 10–20% of your heating energy.
Controlled heat-recovery ventilation systems are more effective and economical. These systems come with integrated filters, making them ideal for allergy sufferers.
Energy generation is only cost-effective if the cost of energy generation is much lower than the cost of power consumption. Modern, efficient technology can be used for economical heating.
The efficiency factor of a heating system indicates the overall efficiency of the system. To heat your home sustainably, you should use appliances with high efficiency factors, such as condensing technology, for example.
Consumers can choose between modern gas condensing boiler systems and oil condensing boiler systems that use the heat of combustion gases to heat a building.
Low-temperature boilers heat even more sustainably as they are adapted to use low flow temperatures. The appliances consume less energy thanks to the low operating temperatures. At the same time, they distribute the warmth evenly in the rooms and stir up less dust.
As a rule, both condensing and low-temperature heating systems work very well in combination with renewable energy systems, such as heat pumps or solar technology.
Combinations of this kind are referred to as hybrid heating systems. These are particularly suitable for use in poorly insulated old buildings. For instance, heat pumps require low flow temperatures to work efficiently.
These systems can be successfully implemented using wall-mounted and underfloor heating systems and good thermal insulation. However, it is often difficult to integrate insultation into older buildings. In cases such as these, hybrid heating can help. If you combine a heat pump with, for example, a gas condensing boiler, you can benefit from the advantages of both heating systems and so increase the overall efficiency.
The potential of renewable energies in particular can only be fully exploited if the naturally generated heat is also stored. For example, solar thermal technology mostly generates heat from solar radiation in the summer when it is not needed for heating.
Thermal stores can save this energy for later use. In this way, the heat is not lost and you can use it when you need it. We recommend using a stratified tank to store the heating energy. These tanks can also be combined with solar technology.
If you lower the room temperature by only a single degree, you can reduce energy costs by 6%. The following temperatures are generally found comfortable:

Living rooms and work spaces: 20 to 22°C
Bedrooms: 16 to 18°C
Children's bedrooms: 20 to 22°C
Kitchens: 18 to 20°C
Bathrooms: 24 to 26°C
Cellars: 10 to 15°C

To heat your home sustainably, you should, above all, lower the room temperature when you are not at home. You can regulate room temperatures automatically using modern thermostatic valves and fully automatic programming units, such as the WOLF BM-2 programming unit.