Energy transition in Germany
A marathon we are all running together
One thing is clear: a comprehensive energy transition in Germany cannot succeed overnight. It's not just about power generation and energy consumption in industry. Transport and private households can support the energy transition in Germany more than most people are aware. You, too, can make a decisive contribution. We'll show you how.
Measures for the energy transition
Switching to new forms of electricity generation not only requires new power plants for renewable energies, it also calls for a sensible expansion of infrastructure. For example, the electricity generated in northern regions from wind turbines must reach southern Germany via sufficiently dimensioned power lines.
At the same time, the energy supply must be assured around the clock, including at night, in winter and when it is not sunny and windy.
The German Renewable Energy Sources Act ("EEG"), for example, is intended to promote the switch to new energy sources with various measures:
Large power plants are to be supplemented by a decentralised structure of small producers.
Electricity from renewable energy source has priority when it is fed into the grid
Guaranteed payment for electricity from renewable energy sources
Especially the last point is causing resentment among some consumers. Because the whole thing is financed by the so-called EEG surcharge, which is added to the electricity prices and other energy tariffs.
But private individuals can also benefit from this – for example, if they generate their own electricity using photovoltaic systems.
However, the remuneration for private households is no longer as attractive as it used to be. In the meantime, it is more worthwhile to use it yourself, for example to operate a heat pump that requires electricity.
The WOLF CHA Monoblock heat pump is sure to fit in with the overall design of your home, and is perfect in the garden, out on the patio or mounted on the wall – all with an impressive COP of 4.65.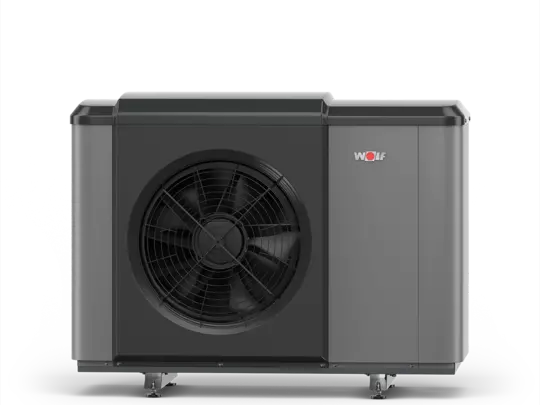 Is Germany missing its targets for the energy transition?
Unfortunately, the ambitious political goals have often been missed. It was already foreseeable in 2018 that the targeted number of one million electric vehicles on German roads by 2020 would no longer be achievable. Politicians then extended the period to 2022.
The energy transition in Germany is progressing – but not fast enough. This is made clear by a look at the greenhouse gas emissions to date and the goals to reduce them.
Heating and cooling: instruments for reducing energy consumption
Have the right priorities been set for the energy transition? The heating of private households alone is a major factor – one that could be made considerably more efficient with the right control measures.
The data released by the German Renewable Energy Agency (AGEE) in October 2019 shows that
heating and cooling (excluding electricity consumption) is responsible for around half of all German energy consumption.
This is followed by the area of transport.
Only in third place is the net electricity consumption, which is often in the foreground in energy policy discussions.
Making use of renewable energies such as solar heating not only lowers your energy costs in the long term, it also makes a decisive contribution to lowering greenhouse gas emissions.
If you cannot or do not want to switch completely to renewable energies, a lot of energy can also be saved with modern condensing technology.
Of course, you also have the option of combining renewable energies and modern condensing technology to form a hybrid system. This is how you get the best out of every system.