Heating system replacement
Single-family house modernisation
Marion and Jasha want to replace their old oil-fired heating system with an environmentally friendly heat pump and retrofit a ventilation unit and photovoltaics. To do this, they have to dispose of the oil tank and carefully adjust the hydraulics. In addition, some roof work is required for the installation of photovoltaics.
The oil heating system has to go
Marion and Jasha want to scrap their oil heating system in favour of renewable energies. Read on to find out which system they decide to use and why.
When Marion and Jasha built their house, they originally selected an oil heating system because their plot is located on the rural outskirts of Frankfurt and is not connected to the gas mains. However, the existing heating appliances are now outdated.
The couple want to save more energy and money on heating and instead make use of environmental heat by installing a heat pump heating system and photovoltaics. As their house is well-insulated, they have also been advised to integrate a home ventilation system.
The couple does not want to undertake any major modifications as the building is in good condition with regard to energy efficiency. The family will be able to continue using the existing infrastructure after removing the oil heating system, but it will need to be precisely adjusted by a heating contractor. Only then can the hydraulic system work properly.
Marion and Jasha will have to fulfil certain legal obligations when replacing the oil tank and commission a specialist firm to dispose of it. Some work will also be required on the roof to install the photovoltaics. In contrast, installing a decentralised home ventilation system takes relatively little additional work.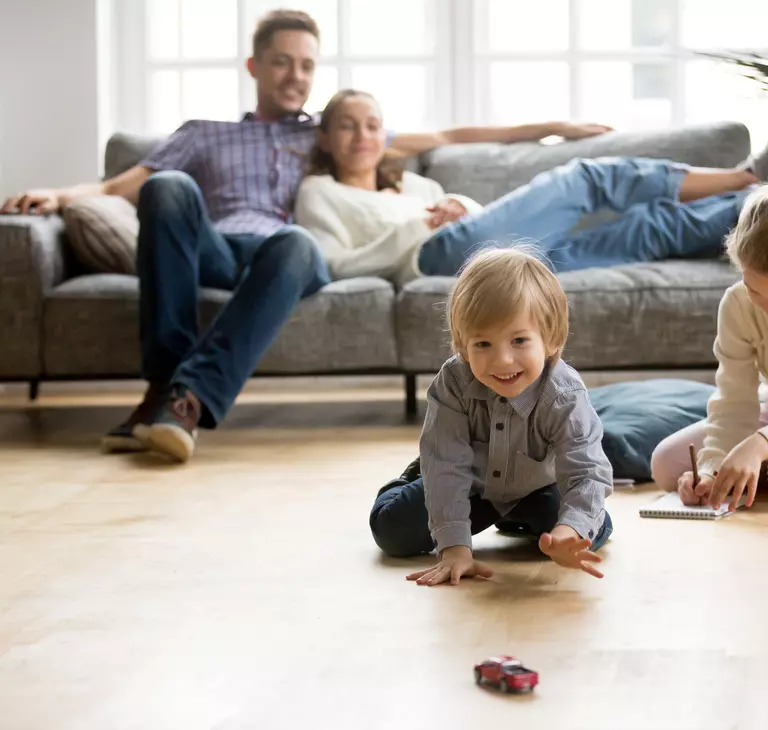 Reasons for choosing sustainable heating systems and a ventilation unit
The reasons for using environmental heat combined with mechanical ventilation are as follows:
The heat pump heating system uses ambient environmental heat. The family's ecological footprint will improve as they will heat their home using renewable energies instead of fossil fuels. Mechanical ventilation will reduce energy losses that are usually caused by opening windows and doors to air the interior.
The family can maintain pleasant temperatures in all seasons using a heat pump for heating and cooling. Jasha and Marion can now benefit from their earlier decision to install an underfloor heating system. This is because heat pump heating needs systems with low flow temperatures.
The decentralised mechanical ventilation also adds to the comfort of their home by recovering heat and providing passive cooling. It also filters allergens and impurities from the air and reduces the risk of mould formation.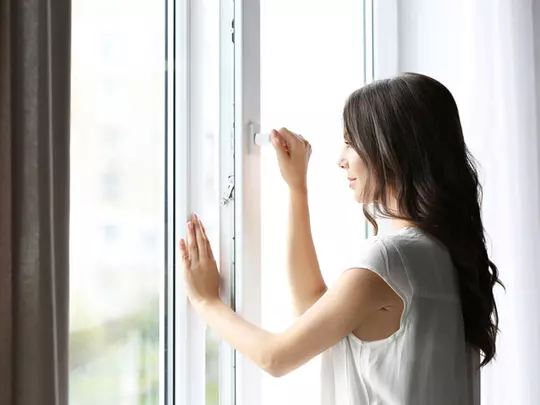 Sounds complicated? Not for us!
It can be complex and time-consuming to find the right solution for your home. We can help you to understand everything that is really relevant to your project in only a few minutes.
Great savings with minimal modifications
Modernising Marion and Jasha's house will not take any major renovation work but will certainly save a great deal of energy and, consequently, money. Furthermore, the family is no longer reliant on fossil fuels. Removing the oil tank is unavoidable but they can use the existing infrastructure efficiently for the new heating system.
Mechanical ventilation can also be perfectly integrated into the well-insulated building and will prevent further energy loss. In combination with the photovoltaics on the roof, the heating system can work even more cost-effectively.