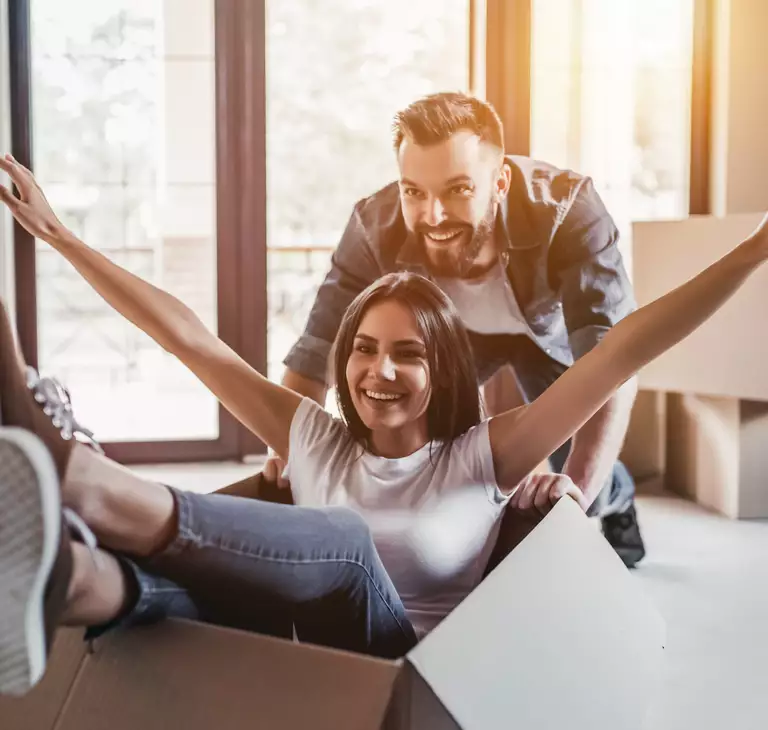 5 tips for easily lowering heating costs
Make your next heating bill a pleasant experience: 5 tips for heating efficiently and saving on heating costs.
Saving effectively on heating costs
Saving heating costs is not only good for your wallet, it is also good for the environment. In any case, getting active information on how to best save heating costs and heat your home as efficiently as possible is the first step in the right direction.

For most people, their first thought is to replace their old heating system with a new one – ideally using innovative, new technologies such as heat pumps or solar thermal systems. In the long term, switching to a new heating system is definitely sensible and profitable. In addition to this rather elaborate but important tip, there is also much more advice on immediate help.
The WOLF CHA Monoblock heat pump is sure to fit in with the overall design of your home, and is perfect in the garden, out on the patio or mounted on the wall – all with an impressive COP of 4.65.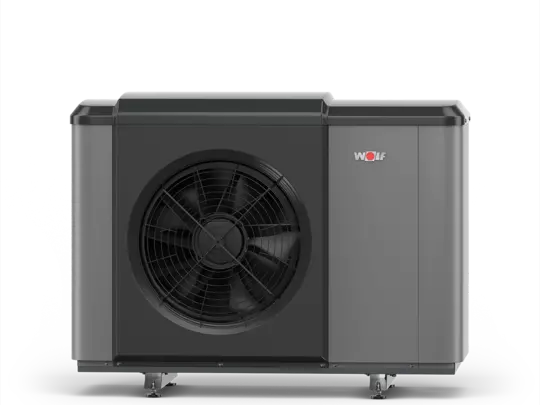 Practical tips for valuable savings
Save on heating costs thanks to care and maintenance

It may seem trivial, but it is essential that you bleed your radiators regularly. This is very easy and still has a great effect. While you can bleed the radiators yourself, correct maintenance of the heater is a job for the professional. He can ensure that the heating is perfectly adjusted and cleaned.

Only in this way is it possible for your heating system to convert the energy in the fuel into heat with as little loss as possible in order to optimally heat the room.

Save on heating costs with the right temperature

Sitting in a T-shirt in the living room, even though the temperatures outside are low, may be pleasant, but this also increases heating costs immensely in winter. You can save around 6% on heating costs for every degree Celsius that you lower the room temperature. You can use the following guide values ​​for suitable room temperatures as a guide:

Living room, kitchen and bathroom: around 21 °C.
Bedroom: a fresh 18 °C


Correct use of the thermostat is helpful in this context. It has to be set to the correct temperature, which is easier with digital thermostats than with classic five-stage thermostats. You can assume that with such a thermostat level three corresponds to a room temperature of approx. 20 °C.


To minimise the risk of mould formation in cooler rooms, you should open the windows more often. This is especially important if the room is below 16 °C.

But do you really need this temperature around the clock? Working people are not at home for many hours, so it can be a few degrees cooler during this time. When the weekend comes, a comfortable temperature is required.

Modern heating systems enable efficient heating through a time control. Often you can even use a smartphone app to set the times at which the heating should work and how hard. The problem for tenants in apartment buildings is that they do not have direct access to the heating system.

The solution in this case is programmable thermostats. You can set each radiator separately to determine when and how much heat it should give off.

Correct radiator location and thermal insulation

Where are your radiators in the room? Can they give off heat without any problems or are they obstructed by furniture, curtains or other objects? It is essential that the heat can flow freely.

Curtains should therefore reach no more than the upper edge of the radiator so as not to prevent it from radiating heat and heating the room to the desired temperature. Furniture should also have a minimum distance of 30 cm from the radiator.

Thermal insulation is at least as important as the barrier-free heat flow. For example, radiator niches in elegant old buildings are not very efficient. Due to the thinness of the walls at such locations, energy losses are high.


It is best to have these areas insulated by professionals. Those who themselves experiment with insulating foils are often only temporarily satisfied: mould formation is usually the consequence.

It is, however, an easy matter to fit existing windows and doors with sealing tape and draft stoppers. Insulation of the roller shutter case is also helpful, although this is associated with higher costs. However, they are worthwhile in the long term, because in this way you can save up to 30% on your heating costs.

Save on heating costs through intermittent ventilation

Fresh air is important. It invigorates the mind, increases well-being and prevents mould. In order to let as little valuable heat escape as possible, in winter you should ventilate the rooms intermittently. To do this, open the windows and doors for a few minutes and create a draft. After these few minutes, the air exchange is successfully completed and you can close the windows again.


You have fresh air, but the walls have not had time to cool down. After all, heating them up again takes time and therefore costs both energy and money. Since this did not happen with brief, intermittent ventilation, your heater can easily heat the fresh air in the room to the desired temperature.

Save on heating costs by insulating the heating pipes

Heating pipes with inadequate thermal insulation lose a lot of valuable heat. A heating technician can fix this for you. What if you aren't the owner of the house or apartment? Then speak to your landlord about it. Your landlord is now legally obliged to insulate the heating pipes in the building. You can save up to 8% on your heating costs.

Bonus tip: If your heating system is already old, it is worth buying a new burner or even replacing the heating technology. Immense progress has been made here in recent years.

Check out the WOLF product range to see the effective heating options currently available on the market. The range includes both proven and innovative technologies such as oil heating, gas heating, heat pumps, solar thermal and more. The quality is backed up by a 5-year guarantee.

Feel free to contact us directly to obtain more detailed information without obligation and to receive support as required.
Save on heating costs: start today
These tips show that there are many ways to save on heating costs. You can implement many of the measures quickly or even immediately and benefit from the next billing. Most effective and absolutely profitable in the long term, however, is a new heating system – and extensive incentives are currently on offer here.

Incidentally, all tips follow a basic requirement for heating cost savings: the optimal distribution of heat in the room and unhindered air circulation. In addition, thermal insulation is important in order to avoid losses as best as possible. The lowering of the room temperature may seem strange at first, but if it's only 1-2 degrees, you hardly notice it. However, you can see the clear difference on the heating bill. Why not try it?