Energy-efficient renovation
Ways to modernise old buildings
Did you know that buildings account for 40% of all power consumption in Germany? This is reason enough for the federal government to promote energy-efficient measures in the building sector by introducing new legislation and programmes. The goal: to slash power consumption in buildings.
Environmental policy goals, measures and programmes
The federal government has an ambitious plan: all building stock in Germany will be climate-neutral by 2050. This excludes any new buildings whose technical design specifications are already energy-efficient.
The situation is more difficult when it comes to old buildings because they are based on construction techniques dating back many decades. Read on to find out all you need to know about the federal government's climate change package.
The government offers grants in the form of funding programmes to assist consumers with the energy-efficient renovation of their old buildings.
Technical options for energy-efficient renovation of old buildings
The spectrum of energy-efficient renovation options for old buildings is broad, ranging from insulating the building to installing new windows and doors right up to fitting new heating systems or installing solar plants.
We can provide you with an overview of the various measures that are best suited for modernisation projects.
When undertaking the energy-efficient renovation of an old building, please note that the various measures should not be implemented separately: rather they must be sensibly coordinated. Every building has its own character, different structural engineering and individual heating requirements.
Modernising heating systems
Are you thinking about renovating your heating system or even installing a new heating system? Good idea! It is less complex than external wall insulation and, best of all, renovation usually greatly reduces your fuel bills.
A modern condensing boiler can use fossil energy efficiently and lower fuel costs. It will also improve your environmental footprint by reducing your consumption of fossil fuels and production of harmful emissions.
What does a new heating system cost?
Prices for new heating systems vary according to output and fuel type. Gas condensing boilers start at €3000. However, the price depends on the building's structural characteristics. Oil condensing boilers are a little more expensive in comparison.
But when is it worth investing in a new heating system? Depending on the building's state of renovation and current energy prices, the payback period is around 7 to 10 years per accommodation unit.
Are you planning a comprehensive energy-efficient renovation of your old building? Then it is worth investing in a heat pump, such as the WOLF CHA-Monoblock.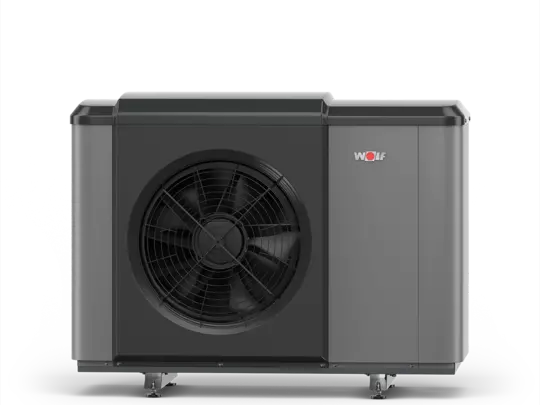 Energy-efficient renovation: insulating buildings
Proper insulation of the old building's envelope from the cellar to the roof greatly reduces the heat transfer coefficient: heat is stored for longer and consumption of finite resources drops.
The aim of energy-efficient renovation is to minimise the thermal permeability of exterior walls using certain insulating materials.
What does thermal insulation cost?
The costs largely depend on the substance of the building, the structural engineering, the construction materials used and other particular conditions. The following table shows prices that can be used as approximate values for rough calculations.
The individual composition of the building will also affect how cost-effective insulation measures of this kind will be for your home. For instance, the construction year and insulation standard are of great importance. But energy prices also affect the payback period. On average, we can say that insulating the façade will pay for itself after around 10 years and insulating the roof after around 16 years.
Replacing the windows as an energy-efficient renovation measure
Replacing old windows is another advisable method of minimising thermal losses from the building envelope. The German Energy Saving Ordinance (EnEV) 2009 states that the heat transfer coefficient of modern windows must not exceed Uw=1.3 W/(m²*K) or Uw=1.1 W/(m²*K) for the glass itself.
Modern, triple-glazed thermal insulation windows lose up to 80% less heat. When combined with façade insulation, these measures can have a major impact.
What do new windows cost?
The cost of replacing windows depends on the window frame material and the surface area of the windows. The table shows figures obtained from the Bavarian Environment Agency. They refer to triple-glazed thermal insulation windows 1.3 x 1.3 metres in size.
Further costs are incurred by fitting and sealing the windows. The installation costs amount to an average of 30 to 40% of the overall costs, so keep an eye on this expense. If you engage a company to install new windows, check that they are certified in line with RAL quality criteria and that they work in line with the appropriate standard procedures.
The payback period for new windows in old buildings is around 8 to 15 years and depends on the type of window and building insulation. In this way, you can lower heating costs by up to 20%.
Solar thermal technology systems are a wise investment
Admittedly, installing solar equipment is not a renovation measure per se. However, it supports your heating system and helps you to make it more energy efficient. Solar thermal technology systems use solar radiation and solar collectors located on the roof through which water flows. Solar radiation heats the circulating water,
which is then used to heat the building and to supply hot domestic water. When using one of these systems, it makes sense to purchase a buffer cylinder to ensure that you can collect and use as much solar energy as possible.
Using solar thermal technology
Do you want to use the sun for the ultimate in hot water and heating convenience while using as little energy as possible? Then find out about WOLF solar heating systems and benefit from our 5-year guarantee.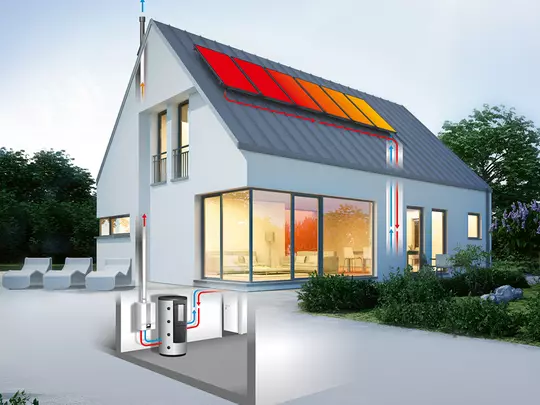 Benefits and drawbacks of energy-efficient renovation
The energy-efficient renovation of old buildings certainly does have many advantages but can also entail a few risks and disadvantages.
Reduces energy bills
Payback period of only a few years
Lowers CO2 emissions
Increases the value of your property
Positive effects on the indoor climate
Financial subsidies available
Less susceptible to changing fuel prices

High investment sums in some cases
Risk of faulty installation due to technical complexity
Temporary disturbance of home during the renovation period
It must be said that, despite the obstacles and risks involved in renovating an old building, investing in an energy-efficient home is worthwhile both for your wallet and for the environment.
We advise you to consult an expert. They can not only tailor specific measures to your individual situation, they can also inform you about suitable financial subsidy programmes.
Benefit from attractive loans and investment and repayment grants and do your bit for the environment.