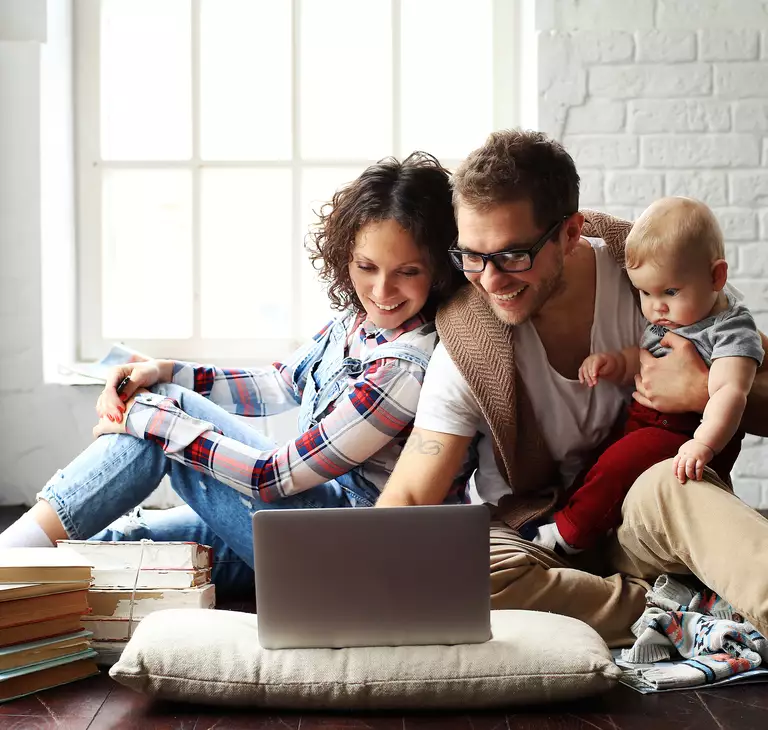 Heat pump with integrated storage cylinder
Newly built detached house
Modern heating means using environmental heat
Stefanie and Andreas have opted to buy a prefabricated house on a new housing estate on the edge of town. It is clear that the only choice for the young parents is a heat pump heating system using the ambient air as a heat source.
Stefanie and Andreas have lived in a rented apartment in the centre of town for many years. But six months ago, little Noah came along. Now it is time for the couple to plan a child-friendly home in the country. They found a wonderful plot very quickly. The housing development is ideally situated and nice and quiet.
The plot and 130-m2 prefabricated house made by a major provider are perfect for the family's tight budget. It is important to Stefanie and Andreas that their house meets high energy efficiency standards and uses a climate-neutral heating system. Because they want the world in which Noah is growing up to be worth living in.
But which type of heating system meets these requirements in a typical new building without a cellar and equally little space in the utility room? Stefanie is a physics and geography teacher so she realises straight away that their only option is an air-to-water heat pump heating system. The alternative choice of biomass heating is worse for the environment and fuel storage would simply take up much too much room.
Reasons for choosing a heat pump centre & mechanical ventilation
While researching their project, Stefanie and Andreas were immediately taken with the advantages provided by a heat pump centre. This compact solution with an integrated storage cylinder is just right for them. They also decide to install a ventilation unit to improve the indoor environment still further.
Stefanie has suffered from allergies all her life. So she is looking forward to controlled mechanical ventilation that always supplies the perfect amount of fresh air while keeping pollen, other allergens and pollutants outside. Stefanie also knows that ventilation with heat recovery reduces energy consumption and saves money in the long run.
Sounds complicated? Not for us!
It can be complex and time-consuming to find the right solution for your home. We can help you to understand everything that is really relevant to your project in only a few minutes.
Good for the climate, good for your budget
In combining a heat pump with a home ventilation system, Stefanie and Andreas are confident that they are investing in an efficient and, therefore, economical heating system for their family home. Furthermore, it will ensure that their indoor climate is well-balanced and pleasant.
The family also definitely want to use solar power in the future once they can afford it. They are intending to purchase a photovoltaic system as they are easy to retrofit. They will also be able to use the solar electricity to run their heat pump heating system which will reduce the power consumption of their home and so improve the cost-effectiveness of the photovoltaic system. Their goal of climate-neutrality is achieved.