WOLF filter technology
Clean air all the time
Best filter performance with minimal pressure drop and maximum service life
State-of-the-art filter technology in WOLF air handling units ensures perfect hygiene, excellent indoor air quality, component protection, environmental protection and low operating costs. The standardised solutions, some of which were developed in collaboration with WOLF, are selected and calculated for all requirements and output ranges on a project-specific basis.
Clean and healthy air; low energy consumption. The WOLF product range covers all filter technologies and, naturally, meets ISO 16890 filter standards (applicable as of 01/01/2017).
In addition to filter quality, undesirable bypass leaks and filter maintenance have a significant effect on the hygiene of indoor air. WOLF AHU appliances are designed with the lowest possible filter bypass leakage and use a filter quick-clamping system to fulfil the highest hygiene requirements. The BMK Touch programming unit also provides smart filter monitoring with a filter status indicator.
You want to change the filter in your AirPurifier?
Consistently clean air: WOLF HEPA terminal filtration for air handling units, ventilation units and the AirPurifier

HEPA filters with high-grade fibreglass media

Suitable for handling high air flow rates
High-quality fibreglass filter media
Highly efficient filtration
Can be fully incinerated
Special mounting frame prevents any leaks
H13 and H14 filter classes available

The Carbon combination filter is an effective solution for eliminating particles and gaseous components, particularly odours, in just one single filter stage

The Carbon combination filter removes particles using an efficient microfibre synthetic filter fleece and meets filter class ePM1>50% or ePM1>65% requirements in line with EN ISO 16890

Suitable for handling high air flow rates
Particle filtration and odour elimination in a single filter stage
Large filter surface area, therefore longer service life
No carbon dust formation due to bonded activated charcoal material
Environmentally responsible disposal thanks to hollow plastic profiles that can be fully incinerated
Light weight for easier handling
Compact design with shallow depth
Self-supporting, rigid design for reliable operation

Being short on space is no excuse to cut corners: clean air and long service life despite limited space

Highly efficient, space-saving, panel-shaped filter

Long service life achievable.
Light yet robust design
Minimal installation depth
Can be fully incinerated
Fibreglass filter media, plastic frame
Available in filter classes von ePM10 > 50% to ePM1 > 80% in line with EN ISO 16890

The classic filter for WOLF air handling and ventilation units guarantees a large filter surface area and optimum energy and hygiene properties

WOLF energy-optimised bag filters fulfil all specifications of VDI 6022

Generously sized filter surface area with high dust-holding capacity
Low pressure losses
Available in filter classes ePM10>50%, ePM1>50%, ePM1>80% as per EN ISO 16890
Energy-optimised bag filters with outstanding hygienic properties to ensure compliance with VDI 6022
Glass fibre filter media, sendzimir galvanised sheet steel frame
Moisture-proof up to 100% relative humidity
Best air distribution thanks to newly developed bag design
Conical filter bags

Air treatment in an aerodynamic, compact design

Compact filter with impressively low energy costs and a long service life

Light, robust construction
Very low energy costs
Aerodynamic design
Can be fully incinerated
Very long service life
Certified performance
Fibreglass filter media, polypropylene and ABS frame
Available in filter classes from ePM10>50% to ePM1>80% in line with EN ISO 16890

The special filter for grease and oil filtration

Ideal for the gastronomy and industrial sectors

Suitable for separating grease or oil mist
Stainless steel medium for easy cleaning
Stainless steel frame
Up to 95% separation rate for oil mist and grease aerosols
Also effective against dust, sand, paints etc.
Knitted fabric with outer frame covered by expanded metal or corrugated mesh on both sides

Activated charcoal filters

For filtration of odours from organic and inorganic gases

Filled with high-quality activated charcoal, the cartridges offer great flexibility at all times

Elimination of odours and gaseous substances – reduces the causes of sick building syndrome
Physical adsorption using activated charcoal made from coconut shells
For use in industrial applications with high concentrations of gaseous pollutants, such as industrial kitchens and airports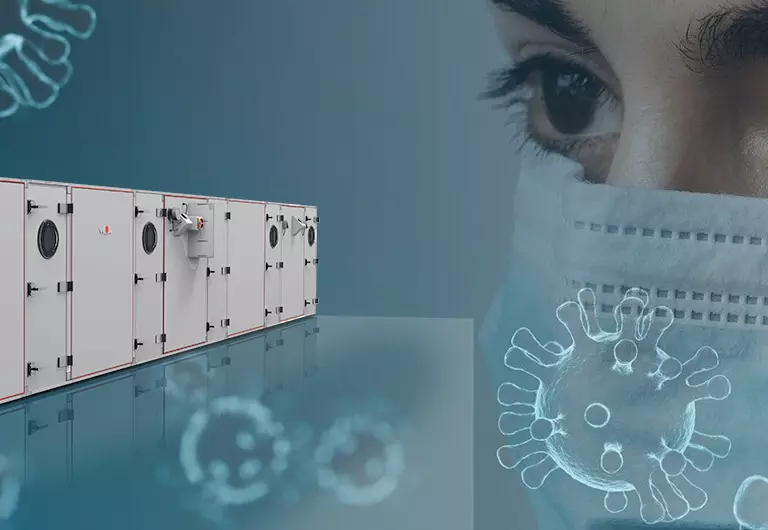 Highest hygiene standards
Air is treated like food in our air handling units (AHUs). With well thought-out technical solutions and an optimal unit design, our claim goes beyond the fulfillment of hygienic standards.
Coupled with proper operation and regular maintenance according to VDI 6022, WOLF ensures hygienic air exchange in buildings.