Air handling and ventilation service
The best climate control for your customers
WOLF is one of the leading suppliers of air handling and ventilation technology in Europe. Building owners, planners, architects and plant builders trust us because we offer particularly innovative, flexible, efficient and low-maintenance complete systems and also guarantee perfect customer service.
Why WOLF was awarded the Gold Seal as an exemplary company
We provide WOLF trade partners with the fastest and best service for our products – whether these are condensing boilers, control systems or ventilation and air handling systems. You can request our help via the Customer Service hotline or from your local WOLF Customer Service department. As an exemplary company, we focus on the seamless integration of classic working methods with digital services. For this, we were awarded the Service Champion Gold Seal in 2021.
WOLF's service concept for trade partners makes use of a nationwide network of highly trained technicians and expert office staff. This means that you and your customers benefit not only from first-class WOLF products but also from the experience and craftsmanship of our Customer Service department.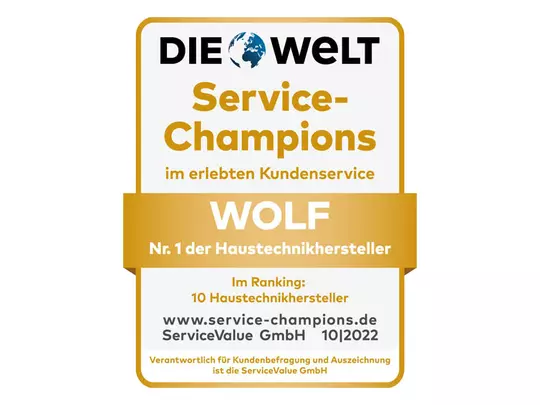 Reliable. Efficient. Predictable. Worldwide.
Many thousands of WOLF air handling and ventilation systems are installed all over the world every year. This is down to your efforts in particular. Our aim is now to ensure that all of our joint customers remain satisfied in the long run. After all, it is a well known fact that the best customers are the ones you keep.
We want to rise to this challenge together with our partners, be they design engineers or trade partners. The WOLF air handling and ventilation service will always be there for you when you need it – for commissioning and repairs or for configuration and maintenance tasks.
Use our range of services to provide your customers with even better support. Here are some of the key services that we can deliver on your behalf:
Ventilation and air handling appliances
Clima-split units
Refrigeration technology
Interface modules
High-performance run-around coil systems (H-RCS)
Humidification systems

Maintenance in line with VDMA 24186
Filter changes
Refrigeration maintenance
Maintenance package for Airpurifier
Maintenance of ventilation and air conditioning units

Specialist engineer service
Completion of integrated refrigeration units on site where multiple deliveries are necessary
Energetic modernisation (retrofitting)
Fan performance measurements
Air flow measurements
Repairs and maintenance
ATEX inspections for split designs
Assembly tasks
Replacement or repair of defective components
Troubleshooting
Always in close contact with WOLF.
All of our service calls are evaluated
in order to quickly detect any disproportionate occurrences of faults or malfunctions and
rectify them in production. This requires a continuous exchange of knowledge between our
Customer Service and Quality Assurance departments.
Our development engineers and service technicians also exchange information during regular, in-depth communication sessions. The objective of these meetings is to directly bring all available information into the development of new products.