Fans and drive systems
State-of-the-art fan technology for maximum energy efficiency
Choosing the most suitable drive system is vital for achieving optimum results. The decisive factors for selecting the ideal system are compliance with standards and regulations and the individual operational requirements. WOLF has the ideal solution for every application and can help you to make your system design a reality.
Perfect efficiency and integrated control functions. Energy-efficiency IE4 is far better than standard requirements.
These fans are suitable for low air flow rates of up to approx. 30,000 m³/h. Fan wall configurations of any size can be constructed. Connecting multiple fan units to form a fan wall generates high air flow rates, saves space and provides redundancy. This type of fan is designed to be extremely smooth running and generate virtually no structure-borne noise emissions.
Energy-efficiency class IE4
High system efficiency even in partial load range
Integral PID controller for variable output control 0–100 % of the electronically commutated synchronous motors with no power loss
Simple and precise output control with flow rate measuring device
Maximum operational reliability and easy maintenance thanks to direct drive
Low noise generation
Short installed length
High outputs possible by using fan wall configurations
Maintenance-free drive system with low wear and long service life
Extremely smooth running, virtually no structure-borne noise emissions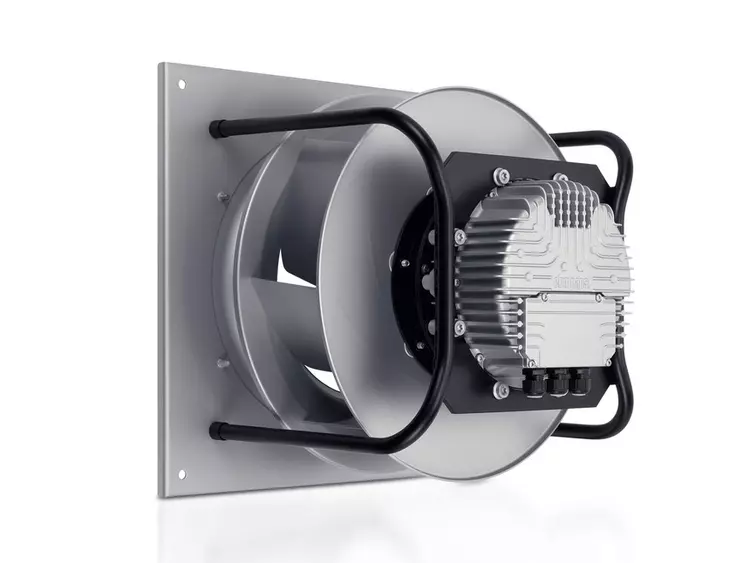 Radial fan with free-running impeller
In the output range up to approx. 5 kW, an inverter can be fitted directly to the motor to control its speed.
AC or DC motors for variable output control with inverter
Simple and precise output control due to flow rate measuring device
Maximum operational reliability and easy maintenance thanks to direct drive.
Short installed length
Optional versions for ATEX applications and extracting contaminated air
Inverter as accessory